{category.meta_title}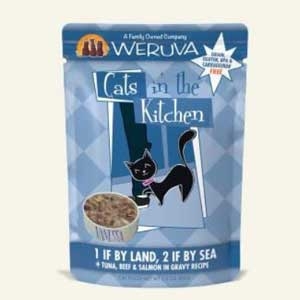 Manufacturer: Weruva for Cats
Model Number: 3 oz pouch
One if by land, two if by sea means mackerel and tuna for your favorite kitty! They'll lap up this food without any avail. With tummies happy and full, they'll be ready to set sail! Available in 3-oz pouch and in 12-packs!
Manufacturer: Weruva for Cats
The kitchen is so often the heart of the home. It is where our family gathers for meals, where we have our game night, where family bonds grow.We eat there, we laugh there—we feed our pets there. The inspiration for these delectable selections come from feeding our precious Cats in the Kitchen. Bring your cats to the heart of your home and share these savory cuts that are all fit for your kitchen carnivores.
We are constantly adding new specials to our site. Be sure to check back often!
About us
Animal House Pet Center is your one-stop location for all your pet needs. We are a full line pet store in the Tampa Bay Area, offering a wide array of pets, pet foods, supplies and health-care products. You are sure to find everything you need for your dog, cat, bird, reptile, fish and small animals at Animal House Pet Center.